Here's your chance to hunt bears with one of North America's most respected bear hunting authorities. Bernie's hunting area is located in the heart of northern Minnesota's north woods. Bear populations are high and Bernie is a master at one of hunting's greatest challenges: getting a bear coming to a bait site during legal shooting hours. For more than 20 years, he has been shooting bears, writing about bear hunting for national outdoor magazines and websites and featuring bear hunting on his YouTube Channel. His regular column in Bear Hunting Magazine is very popular and he's a popular seminar speaker, relating his knowledge on bear hunting to tens of thousands of bear hunters every year. Now you can hunt bait sites he has chosen and personally baited. He's a firm believer in using quality baits and lures only at primo locations and his hunting clients reap the benefits. You'll be his guest at his lakeside property where you can enjoy the views and the meals he prepares for you. Fishing is great in the area, so bring a boat or use one of the boats available at the camp at no extra charge. Come and shoot a bear in Minnesota's northern boreal forest!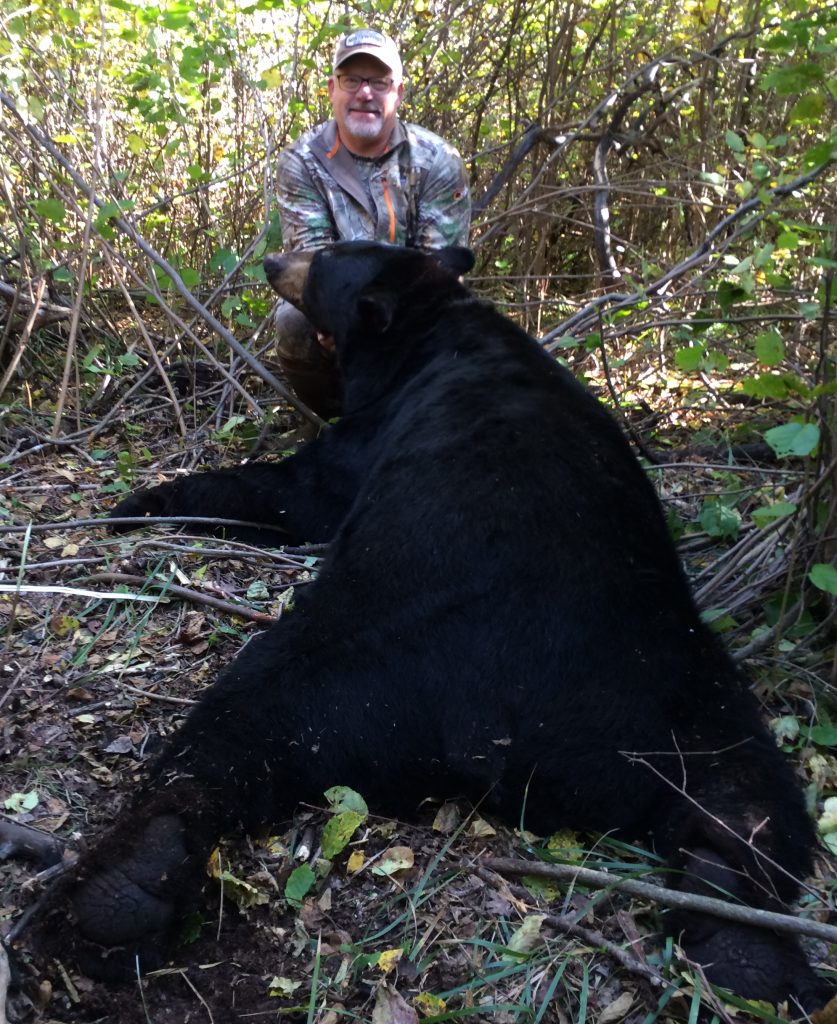 HUNT DETAILS
Your hunt is for up to six days. If you shoot your bear at any time during the six days you are welcome to stay and enjoy the area's fishing and attractions, or you can go home; it's up to you. Minnesota's bear season opens on September 1 each year. We do two weeks of hunting: September 1-6 and September 8-13. Because September 1 can fall on any day of the week, the hunts may or may not include a full weekend. We ask that you arrive by noon on the first day of the hunt to get settled in. We have a place where you can shoot your bow on the property to make sure it is sighted in. There is a gravel pit about 10 minutes away where you can shoot your gun if you like. We will have a short orientation before you head to the stand for the afternoon hunt.
Some of the baits are accessed by logging roads in a 4×4 pickup, most are accessed by 4-wheelers. We try to give each hunter a chance to experience both. Generally we will not drive right to the bait, but will walk the last 75-100 yards to avoid spooking bears. You will get in and out as quietly as possible. You'll be sitting for up to 5 hours so we have spent the extra money it takes for really comfortable stands. A fidgety hunter will not see as many bears. Some of our baits have cell service, but it's normally poor and some don't have any service at all. At most sites, you can get a text to go through, to inform your guide that you shot a bear!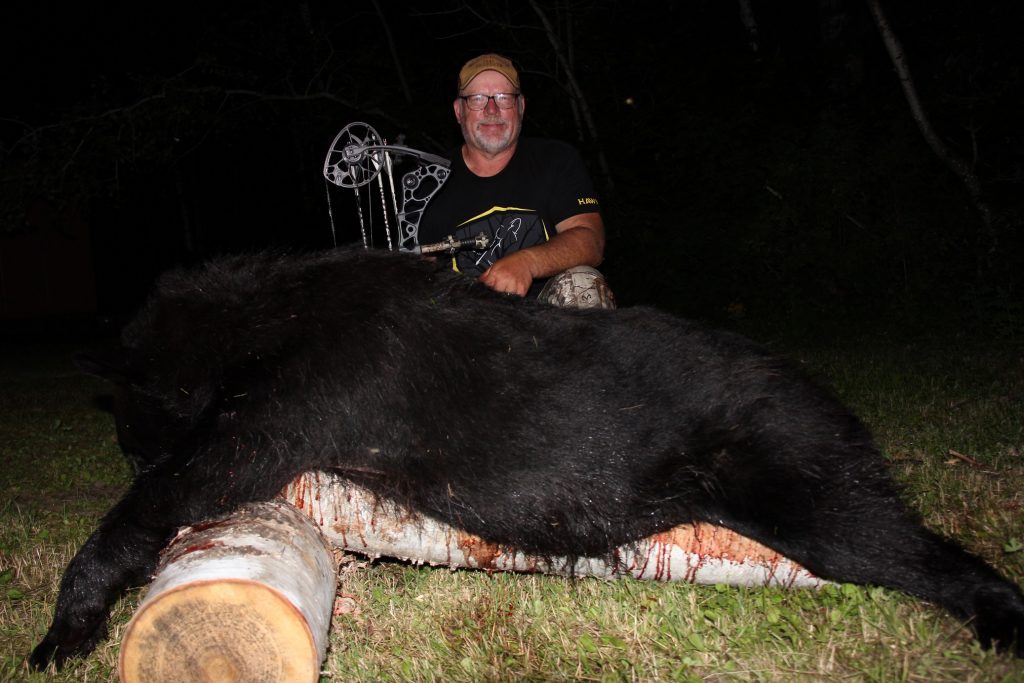 Each bait site has one treestand. They are normally about 15-20 yards from the bait and about 15 feet high. Some are ladder stands and some have climbing sticks. If you want to use a safety harness, please bring one. If a treestand will not work for you, let us know with plenty of advance notice we can set up a pop-up ground blind. It sometimes takes the bears a couple days to settle down when a blind is put up so we really appreciate some notice.
When you get your bear, first thing you'll tag it. Then take a few pictures. It will normally be brought back to camp whole, although if the weather is hot and it's getting late, your guide may gut it in the field. Whenever possible we will get the bear skinned and cooled that same night. Your bear skin will be put in a chest freezer right away. The bear will be broken down into six pieces: The hind quarters, the shoulders and the loins. It is also put in a chest freezer as quickly as possible. (Our skinner works nights). We want your hide and meat to be in excellent condition when you leave with it. Bear meat is great eating if it is cared for properly. Your bear must be registered the following day. It can be done in person at the Balsam store not far away, or online. We'll assist you with the registration.
We hunt in the evenings. A typical day will start with a good hot breakfast at 8:00 am and then you'll have the day to yourself until about 2:00. We normally leave camp by 3:00 and try to have everyone in the stand by 4:00. Lunch and snacks are available, we have a fridge with all you need to make a sandwich or snacks during the day. We encourage you to take some things with you to the stand such as granola bars, crackers, etc. a selection of which is provided. Supper may be late! It gets dark about 8:30 and your guide will pick you up. The times when our hunters arrive back at camp is variable because most days at least one hunter shoots a bear which can mean a later arrival at camp. Most baits are within 30 minutes of camp, but some baits are up to an hour away. For this reason, when you arrive back at camp there will be a self-serve warm meal which normally consists of a roaster full of something like a stew, pulled pork, grilled burgers, you get the idea. The rest of the fixins are in the fridge. We like to make sure our hunters are well-fed. If you get hungry, say something dang it! We'll get you something to eat. If you have any specific dietary restriction please mention it at the time you book the hunt.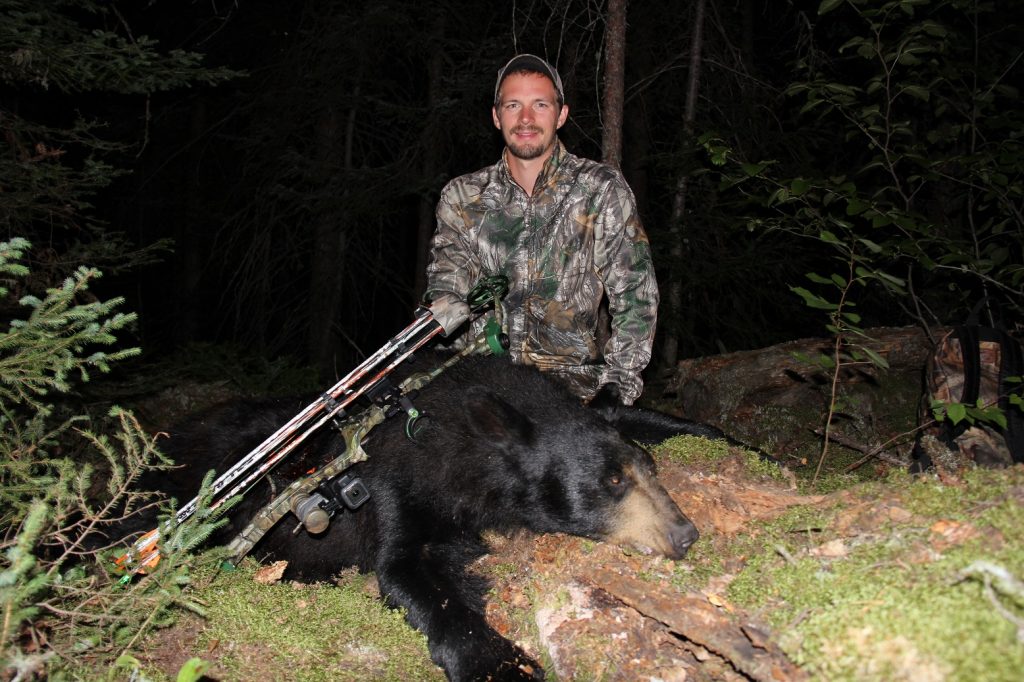 LICENSES AND APPLICATIONS
Most of our bait sites are found in Minnesota zones 24 and 27, but we also have sites in the northern part of 51 and southern part of 25 that we hunt as well. At this time we are only hunting area 27 but may add other zones in the future. Here's the DNR map of the zones. Bear tags are awarded based on the number of points accumulated. You can see the of info of Minnesota's bear hunting regulations here. For these four zones we hunt, you are looking at a chance of drawing with 2 points, a better chance with 3 points and nearly guaranteed with 4 points, depending on the area. If you're a stats person, check out these complicated details to better understand your odds. In the middle of the page, click "Availability by quota area."
The season opens on September 1 each year. Application period begins in early April and ends the first Friday in May. (It's only $5 to apply!) If you want a reminder when the application period opens, email Bernie and he'll send you one in April.
Nonresident bear hunting licenses are $230 and resident licenses are $44. Your bear tag allows you to hunt with your choice of bow, rifle, shotgun, muzzleloader, handgun or crossbow. Nonresident fishing licenses are $51 annual, $43 for a 7-day, $36 for a 3-day, and $14 for a 1-day.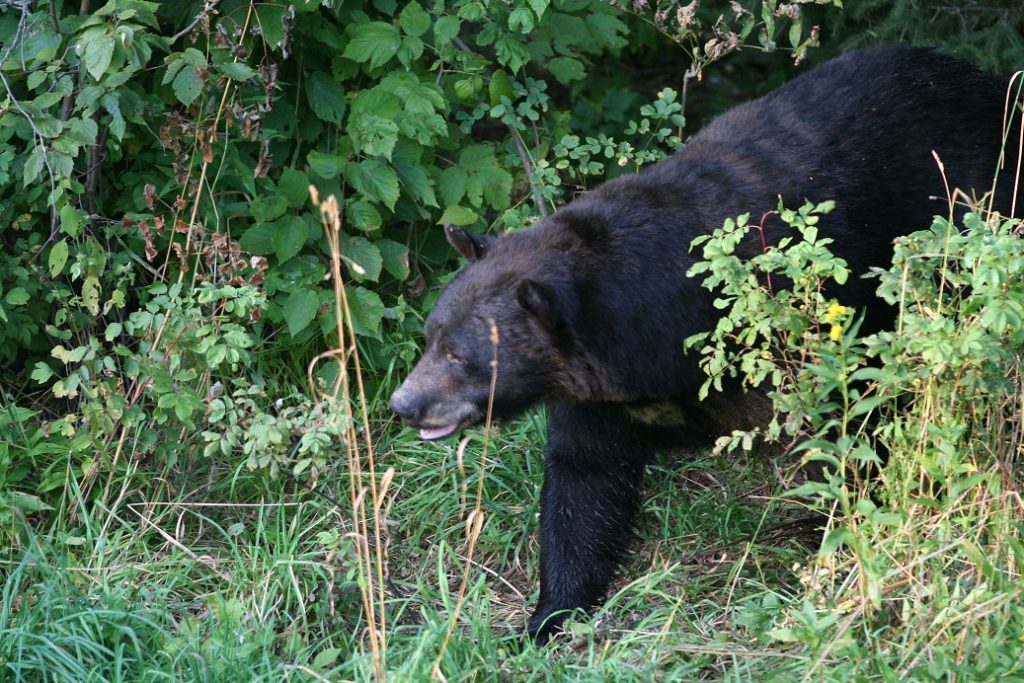 LODGING
You are Bernie's guest at his family's lakeshore property which consists of a pole building with a nice living quarters and a historical cabin. We're on the shore of Lawrence Lake, about 20 miles Northeast of Grand Rapids, Minnesota. Right in the heart of great bear hunting and fishing. This property was once a resort in the early 1900's but most of the evidence of that is gone, except for a couple cabins, one of which is now a woodshed. The other has been restored into a nice living quarters that sleeps 2-3 people. The pole building which we refer to as the "Lodge" has a lounging area, a small kitchen area and two bedrooms that sleep two each. It also has a bathroom with shower, toilet and sink. Some people like to shower in the morning, some in the evening, and some right before they go on the hunt. We spread things out so everyone gets a shower. As a backup, we have an outhouse in case the main bathroom is occupied. In fact we're kinda proud of our outhouse with wall to wall carpeting and a full septic system under it! We also have a large camper trailer which accommodates the staff. Here's a video of the property.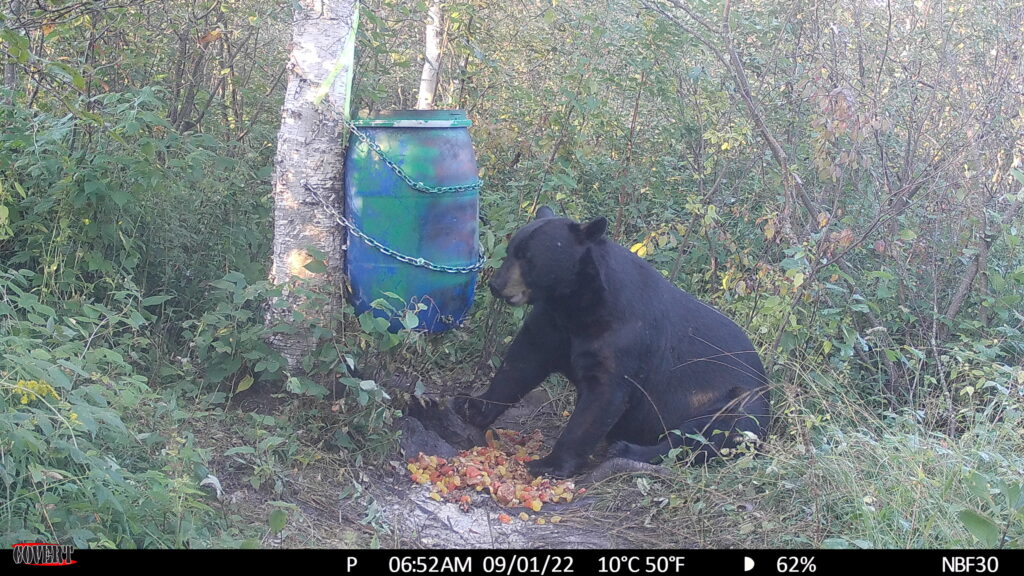 COSTS
The 6-day fully guided hunt cost is $2,800, and includes everything, there are no extra charges. You are responsible to buy your bear hunting license. Once you are notified that you have drawn a tag, you can buy your license online or you can wait until arrival if you are arriving early in the day on the first day of the hunt. A deposit of $1,000 reserves your spot. We only take six hunters per week for a total of 12, so they can fill up fast. The deposit is non-refundable at the owner's discretion. The remaining $1,800 is due upon arrival. Assuming your guide was pleasant, attentive and treated you well, please feel free to give him a tip, it's considered part of how they are compensated. We have boats and motors in camp for you to use for fishing, at no extra charge.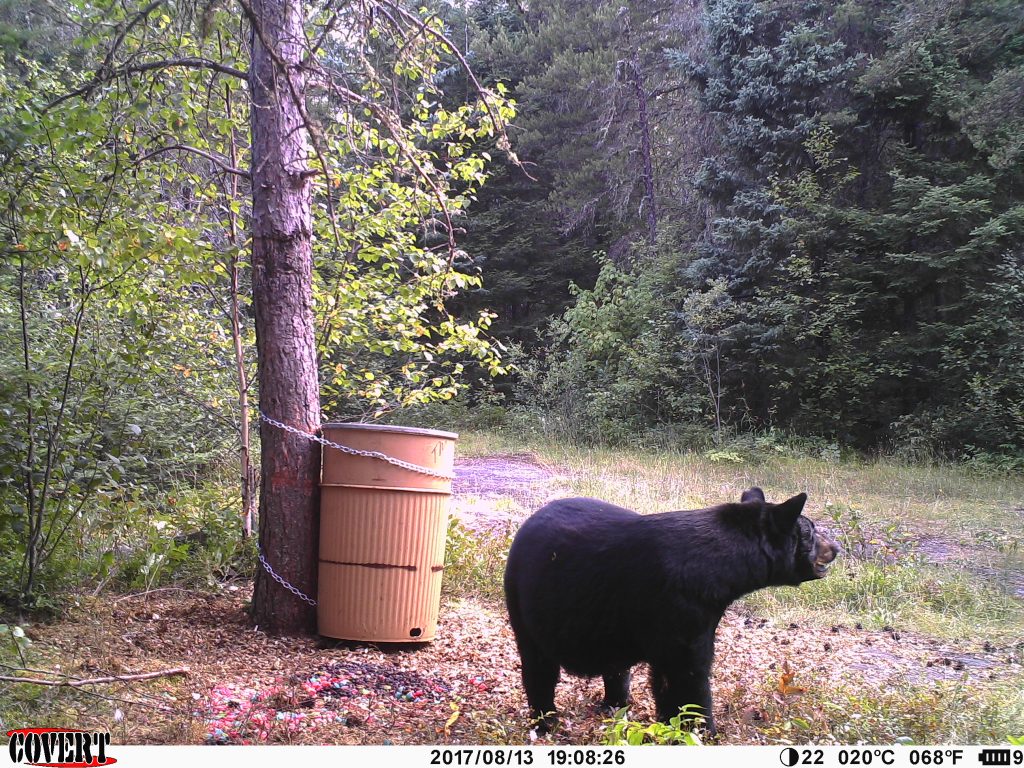 WHAT TO BRING
Good quality camouflage rain gear
ThermaCell with extra pads and butane canisters
Good hunting boots, rubber is best, you may have to walk through muddy areas
Insulated jacket or hoodie to pull on for cool evenings
Scent Killer spray, body wash, etc. We try to keep human odor to a minimum
Safety harness
Personal effects such as toiletries and medications
Coolers to take bear meat and skin home in
A tip for your guide
GPS if you have one. The new ones which allow you to text your guide are great, as many areas we hunt have poor cell service. I have the Garmin 66i
A good headlight and/or flashlight. You'll be coming out of the bush in the dark, and hopefully tracking your bear with your guide!
Fishing gear and even your boat if you want. We are on Lawrence lake and right in the middle of dozens of great fishing lakes
We hunt afternoons, so bring a book or something to do during your down time
A good attitude and a desire to have fun!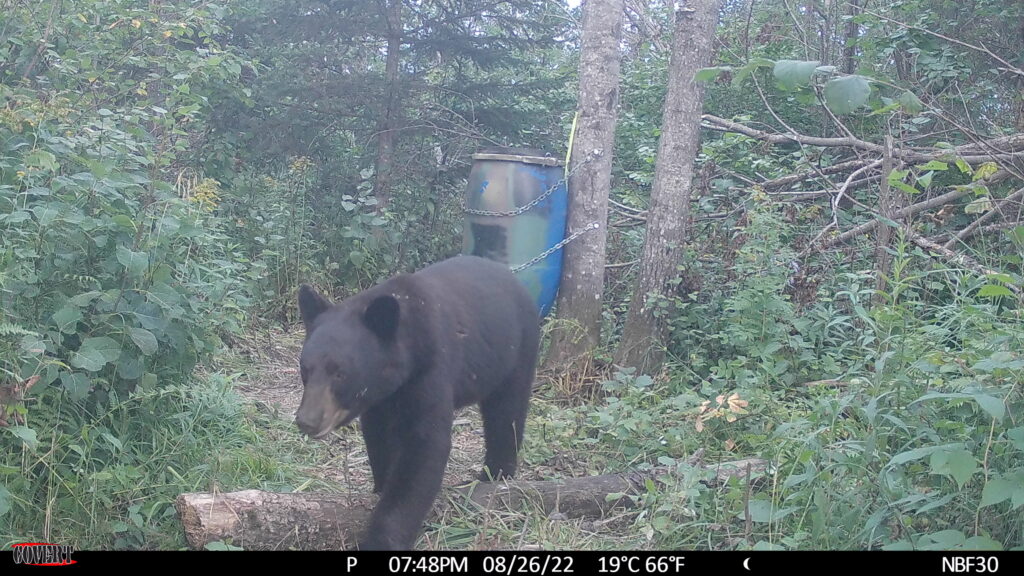 TRAVEL & LOCATION
The address of the camp is 39296 Scenic Hwy 7, Bovey, Minnesota. We are 11 miles north of the intersection with Scenic 7 and Hwy 169 which is about 10 miles east of Grand Rapids. You can fly into Minneapolis (MSP) and rent a car, or into Grand Rapids where you can rent a car or take an Uber. Driving time from MSP to the camp is about 3 1/2 hours.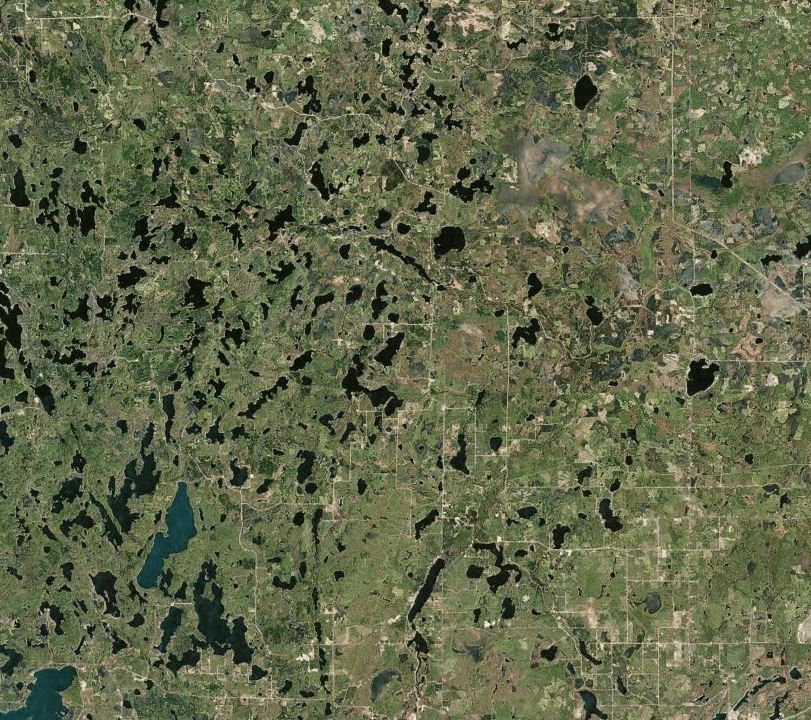 ABOUT WEAPONS
Our baits and stands are positioned for both bow and gun hunters. Your shot will be 15-20 yards. Baited bear hunts are perfect for archery and crossbows. Please take the time to watch this video about bows and broadheads for bears, this is our recommendation. Here is a good article on firearms for bears. Bears are not hard to kill when shots are on target, but they can be hard to recover when you do not have an exit wound because they have thick fat and hair that can plug an entry wound, which makes for a minimal or non-existent blood trail. We like adrenaline, but the adrenaline associated with following a wounded black bear is something we choose to avoid. Please make your shot count. With a firearm, strive to drop the bear in its tracks. With a bow, Shoot for the ribs and strive to get an exit wound low on the body. A wounded bear is considered a completed hunt whether or not the bear is recovered.
FISHING
There are more than 50 good fishing lakes within a half hour of camp. We're on Lawrence Lake, which is known for its walleye and crappie fishing. It's a part of the Prairie river system. There are northern pike and panfish in Lawrence as well. We have a couple boats and a canoe in camp. The boats have small outboards on them, and we have one Lund boat on a trailer that can be taken to other area lakes. If you really like to fish, bring your own boat! You can explore many lakes in the area, some are great bass fishing, some are good for pike and walleye, there are some great crappie lakes, although crappies can be hard to find in the late summer. There are even several muskie fishing lakes, and the Mississippi river is well known for good fishing in this part of the state, it's not far away.
You can search for details and maps of the lakes on Minnesota DNR's website Lakefinder. We're in Itasca county, so you can do the search that way or put your mouse on the map and just click on the lake for links to info on each lake.
CONTACT INFO Email Bernie or Call: 218.820.8459. You'll find a TON of bear hunting info and bear hunting videos on my YouTube Channel. Be sure to check it out!
PHOTO GALLERY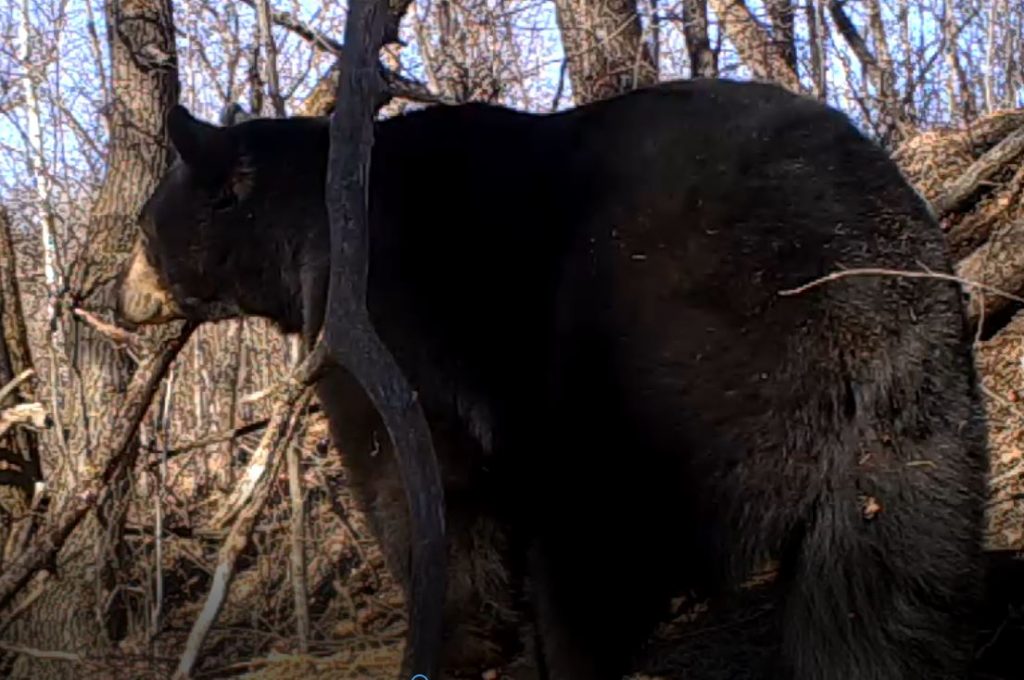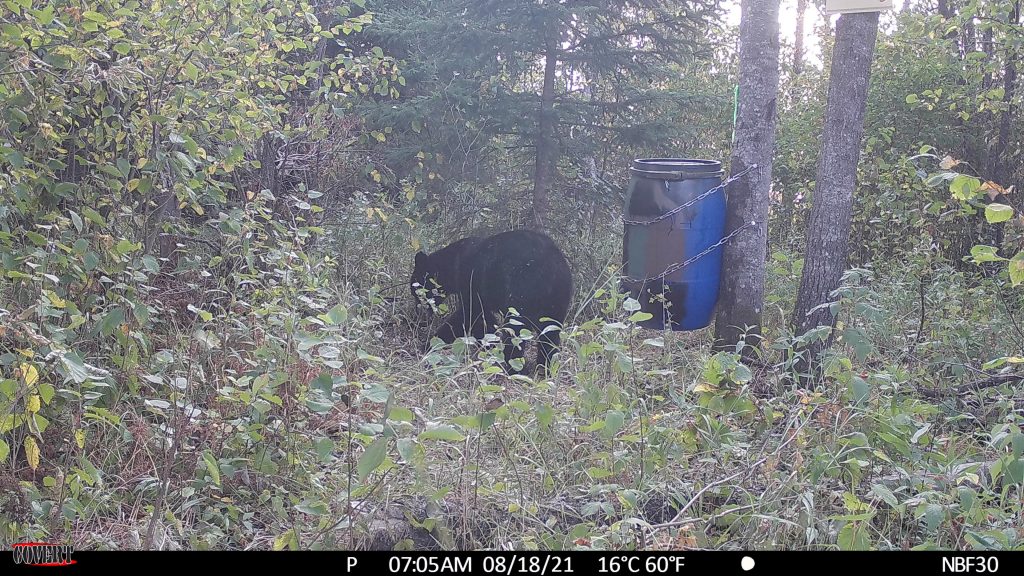 2022 hunters and their bears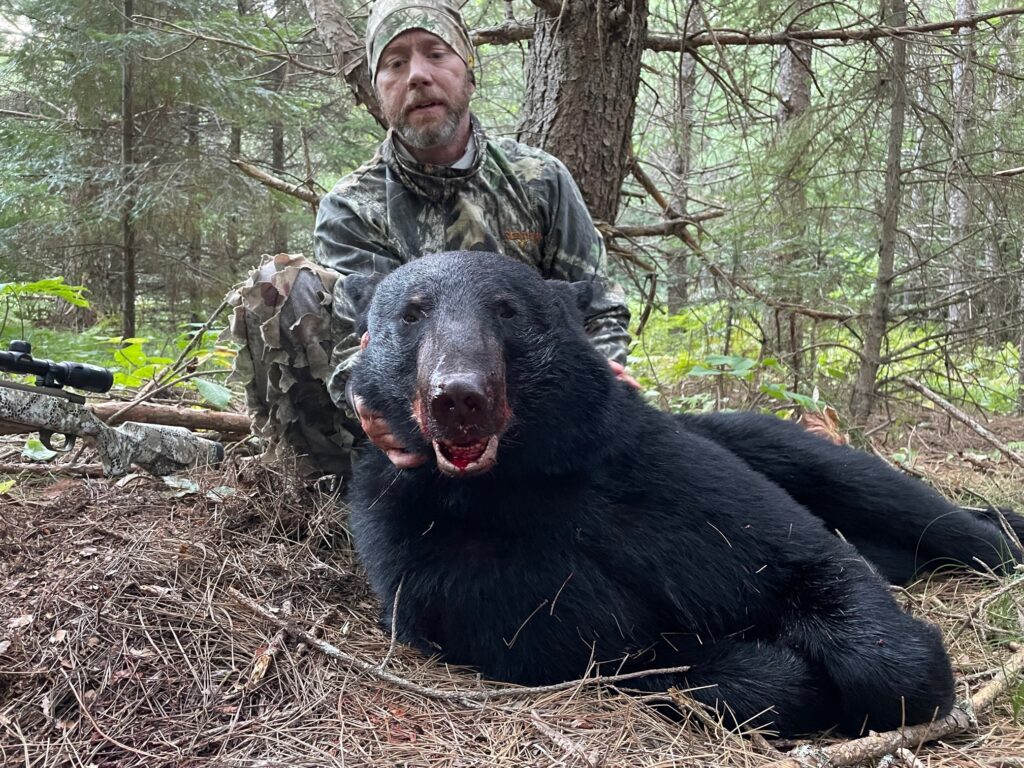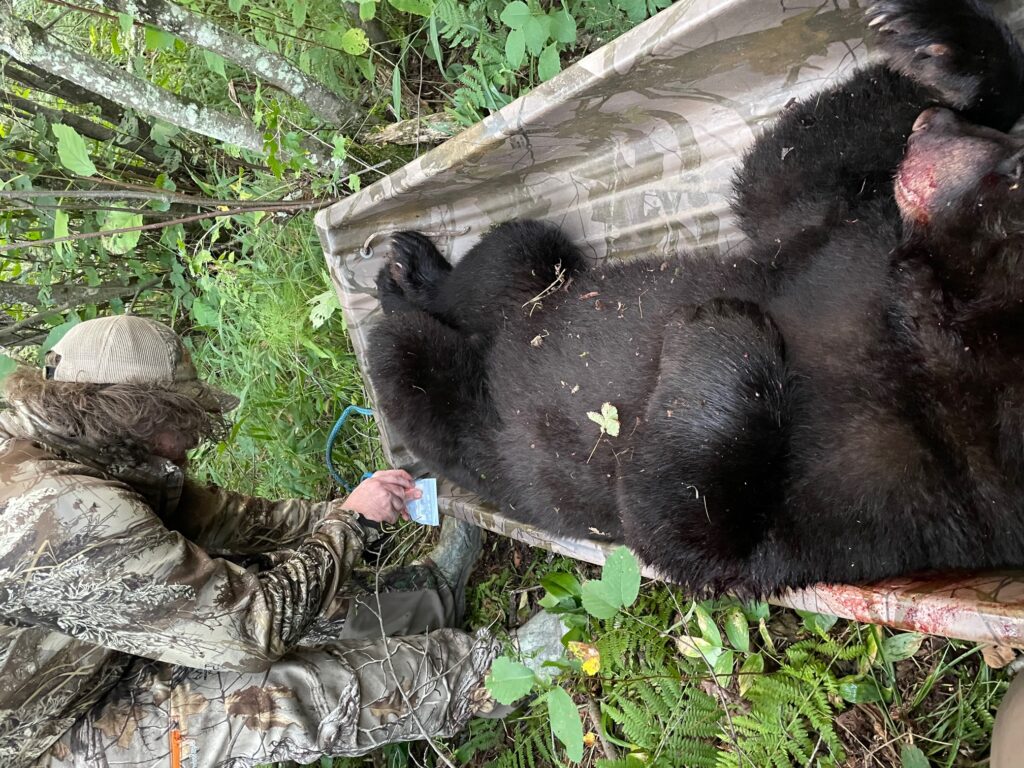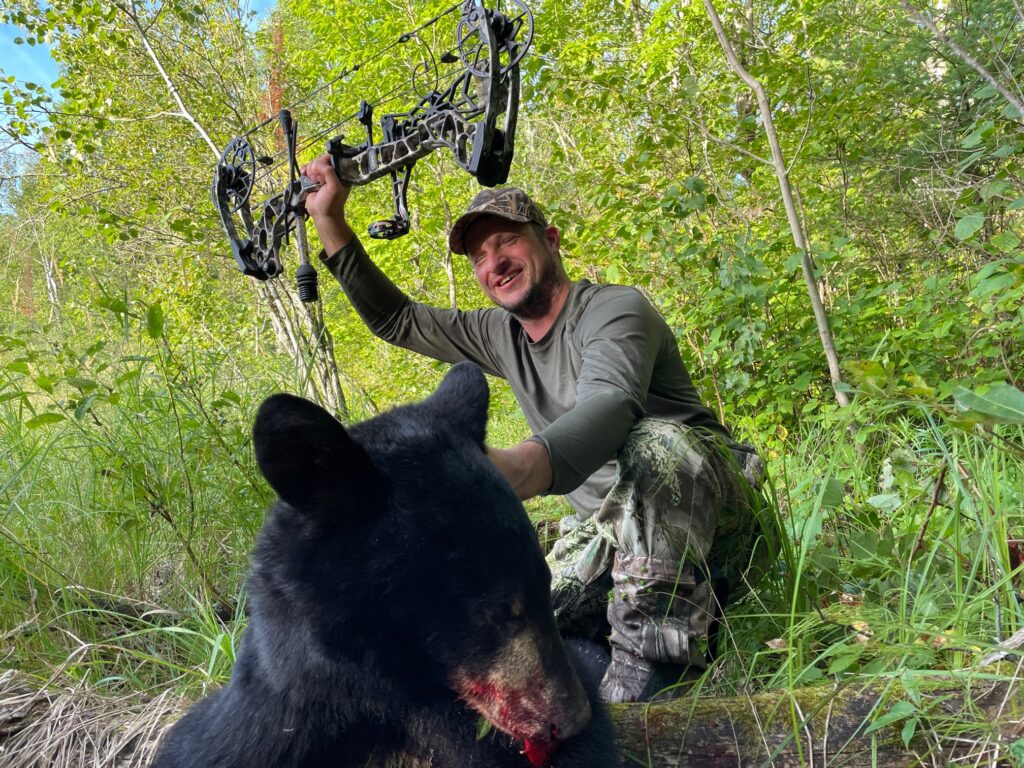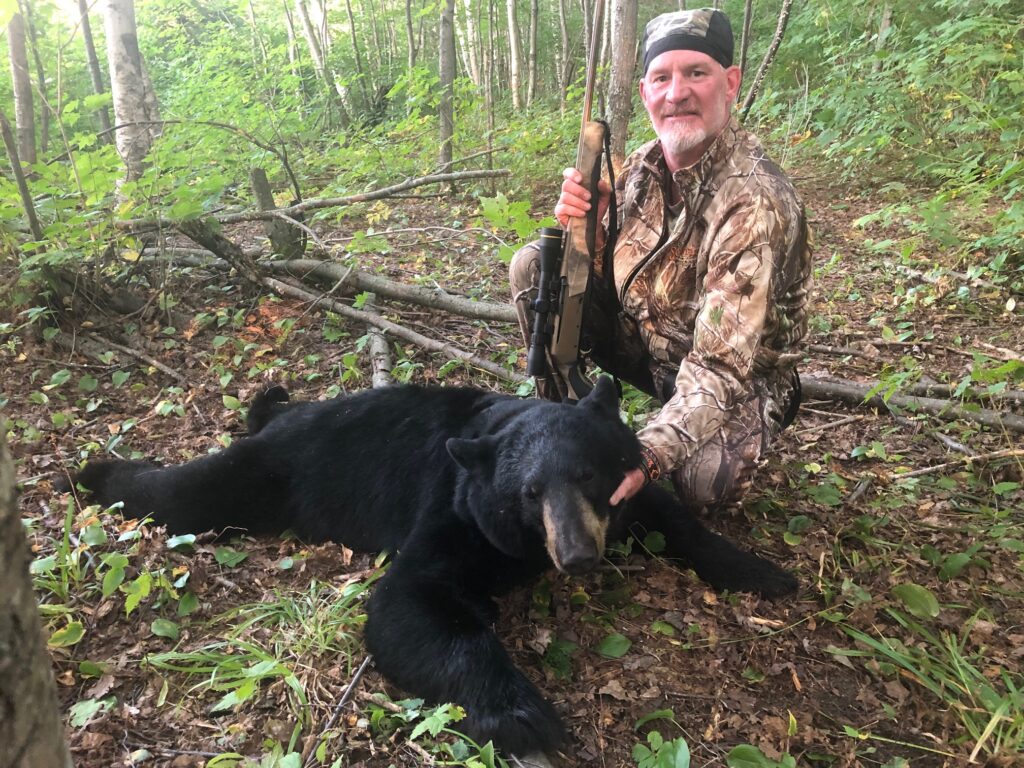 2021 hunters and their bears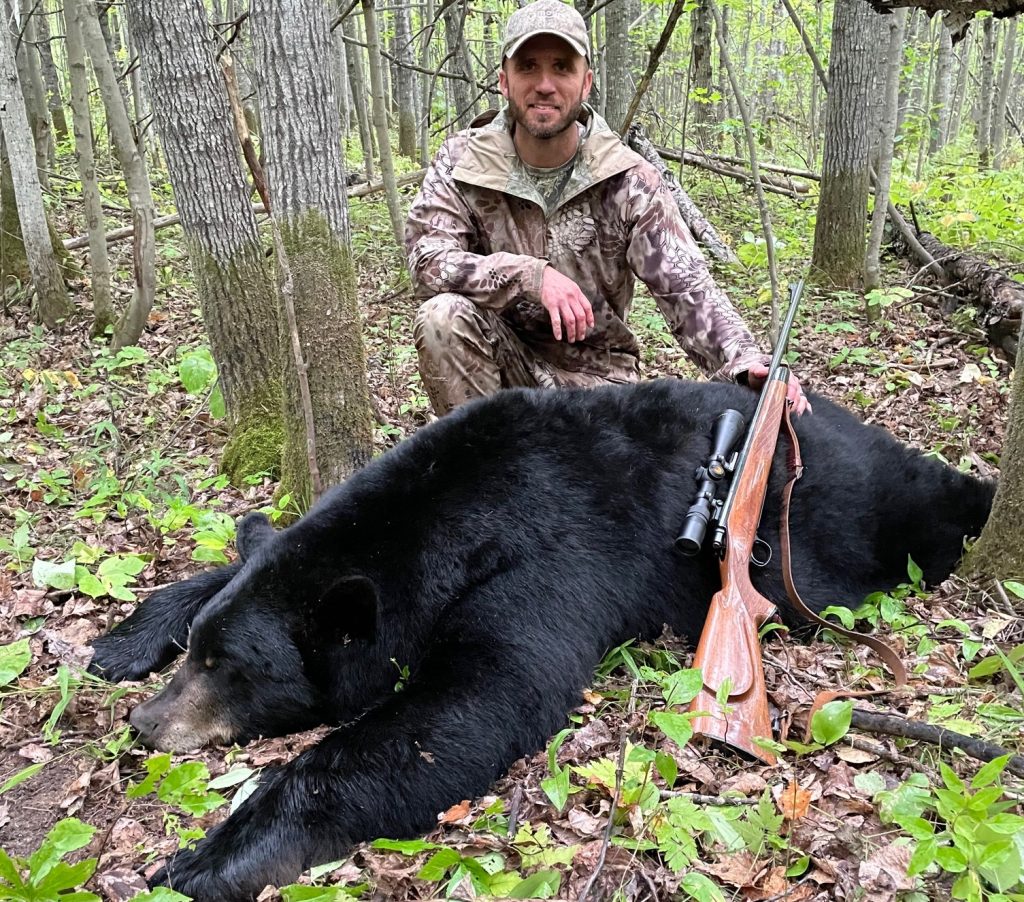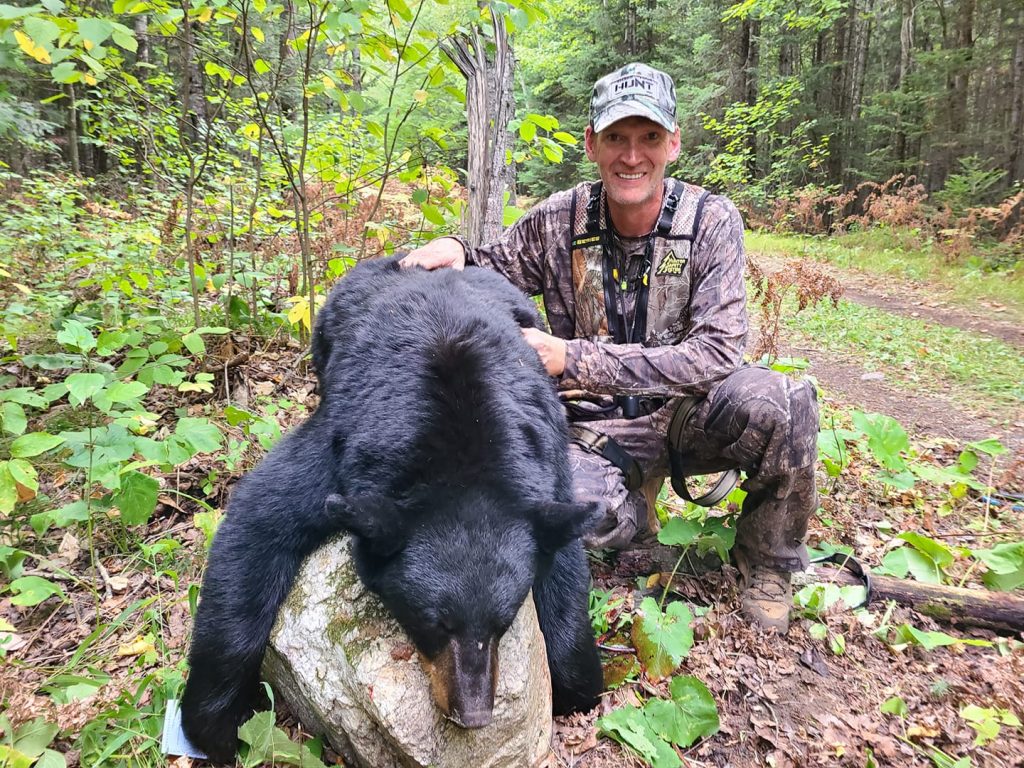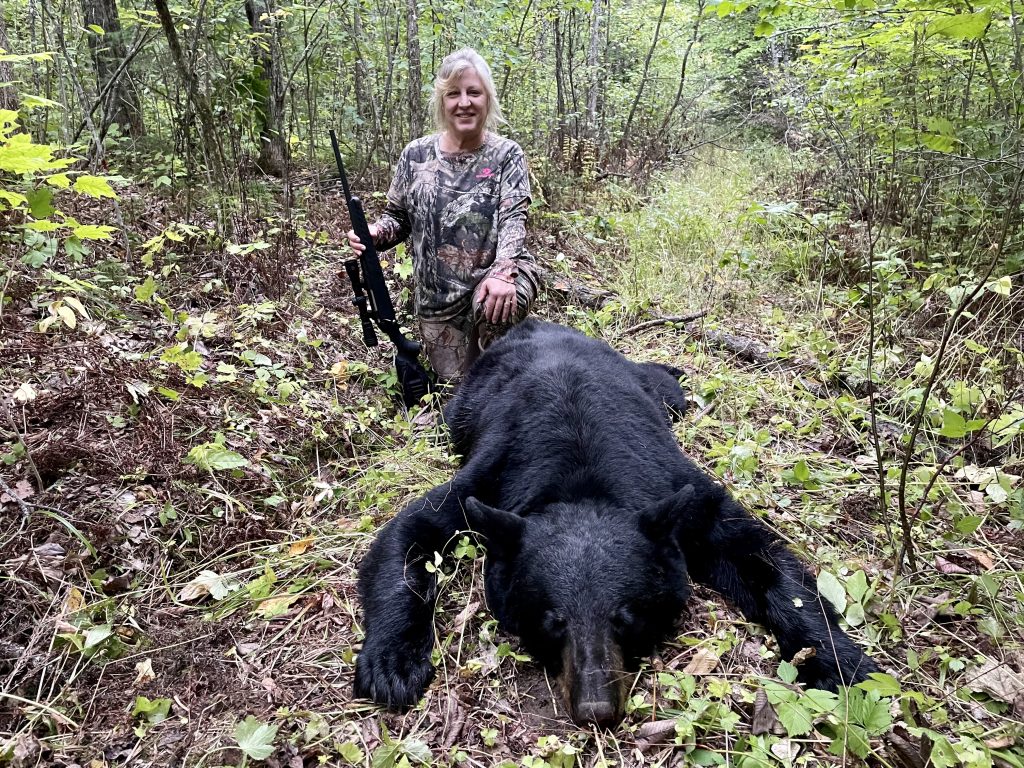 Want to take this time to talk about a bear hunt I went on in Minnesota Sept of 2021, it was with Bernie Barringer, Bernie had just opened this camp up, but you would never know it, I have been on several other bear hunts prior to this hunt from Wisconsin to two Canadian provinces, and this hunt was one of the best hunts I have been on, Bernie has unbelievable bear baiting strategies that are proven to work, my hunt was proof of that I harvested a great bear and saw several others, including a color phase bear, besides the bear hunting the accommodations were also excellent! If you're looking for a great Minnesota bear hunt, give Bernie a call, you will not be disappointed.